E-Bike SUV
SEB 490 SMOOTH
For the sporty rider, the SEB 490 Smooth with the Bosch Active Line Plus motor offers the perfect basis. In addition, the frame has almost no weld seams and thus enhances the sporty look.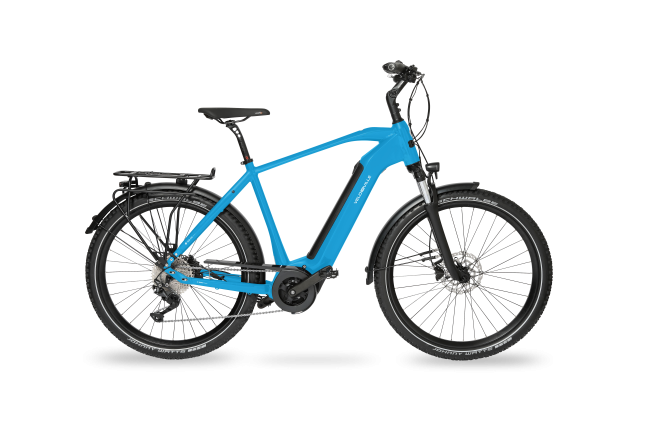 Configurate your dream bike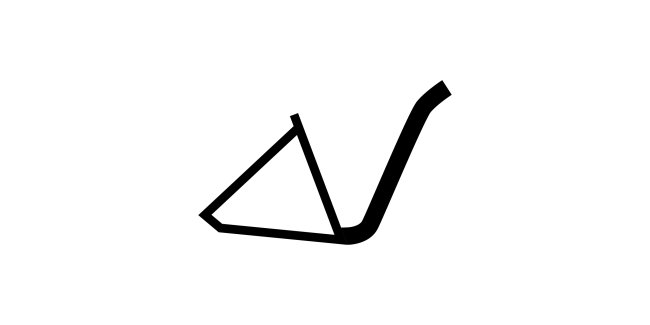 Wave Smooth Intube
Elegant look meets comfortable entry. Due to a special manufacturing process, weld seams have been reduced as far as possible in our new Wave Smooth frame, resulting in a very soft look.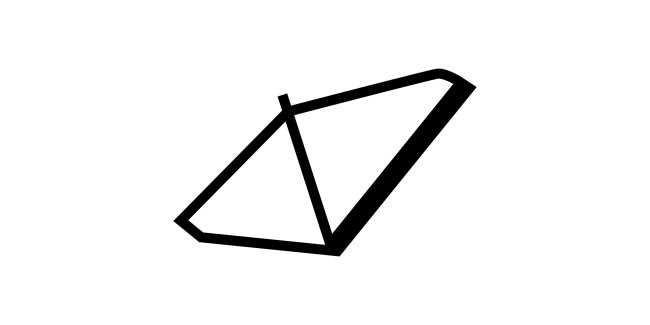 Diamant Smooth
A frame made of one piece. Almost weld-free, the smooth frame is also convincing in the Diamant version.
Equipment packages
Happy Size 160
More stability despite a higher total weight? With the Happy Size Package we guarantee a wheel load capacity of up to 160 kg.
Fork: RST Vogue Air Remote Lockout
Seatpost: by.Schulz Parallelogramm G.2 ST
Saddle: SR Viaggio XXL
Stem: Ergotec Octopus 50 XL Ahead
Handlebar: Trekking XL
Spokes: Nirosta 2,34 ED black
Cross
Turn your bike into a real off-roader. The Cross package comes with a sporty suspension fork and many other components for off-road riding.
Premium
Premium quality through and through: We replace the high-quality components with even better ones. 
• Fork: RST Vogue Air Lockout 
• Front light: Busch & Müller IQ-X E 150 Lux
• Back light: Busch & Müller Toplight Line Brex
• Bell: Knog
• Brakes: Shimano Disc Deore T6000
• Pedal: Industrial ball bearing
• Frame lock: with chain slot
Comfort
For daily shopping or a relaxed day trip - if you value comfort, this is the right place for you.
Fittings
Frame type
Wave Smooth Intube 27,5
Diamant Smooth Intube 27,5
Height
45 50 55 60
50 55 60
Wave Smooth Intube 27,5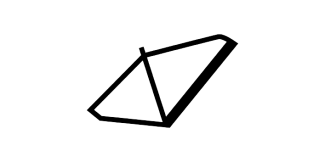 Diamant Smooth Intube 27,5
9 Gang Shimano Alivio
7 Gang Shimano Nexus Freilauf
8 Gang Shimano Nexus Freilauf
8 Gang Shimano Nexus Rücktritt
5 Gang Shimano Nexus Rücktritt
5 Gang Shimano Nexus Freilauf
11 Gang Shimano Deore
8 Gang Shimano Alfine Freilauf
Enviolo TR
11 Gang Shimano Alfine Freilauf
Enviolo AUTOMATiQ
Colour options
Each available in matte and gloss finish.
Equipment
Schwalbe Johnny Watts 60-584
Excellent choice for SUV bikes. Johnny Watts combines 60mm width smooth running on hard surfaces with long durability and puncture protection, like no other profile. Off-road instilling confidence, while on pavement rolling whisper-quiet. Versatile, deep tread for a wide range of uses from asphalt to off-road. Blocks with large contact areas for excellent, low-vibration rolling characteristics and high durability. Even, good-natured cornering behavior on hard surfaces.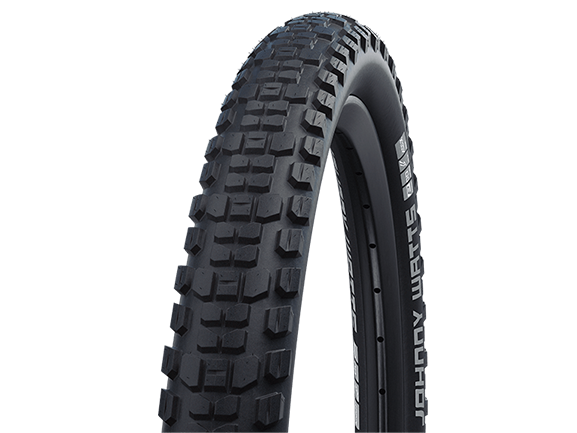 Axa Juno
Compact design meets good visibility. Thanks to the LED technology and the wide reflector, you will be seen from a distance of 500m. The side lighting provides additional safety in the dark.
Ergotec Riser
This handlebar significantly flattens the riding position. With the Ergotec Riser you sit sportily on the bike to build up more speed and have more pressure on the pedal on the uphill.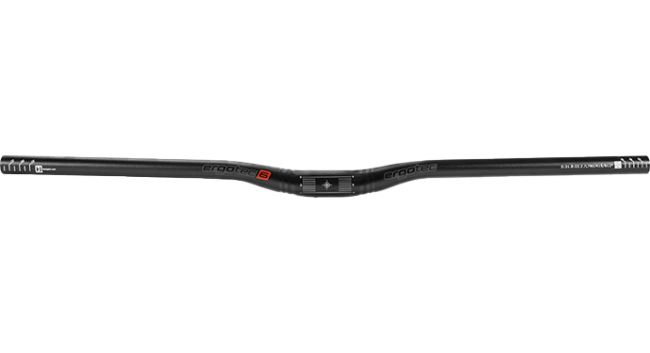 Ergon GP-10
The original of the wing grip ensures optimal support and prevents numb fingers and discomfort in your hands and forearms. Worldwide the reference product in function, material and processing.
Busch & Müller Dopp 35 Lux
A modern, powerful headlight specially developed for entry into the premium class. Thanks to proven lens technology, the LED headlight of the smallest design brings 35 lux to the road, an exceptional performance in this price class and product size, including parking light and daytime running LEDs. Large light openings to the side increase all-round visibility and thus safety.
Bosch 400 Wh
The battery for all everyday journeys. The 400 Wh battery masters the ride to work, to the shops or ride after work without any problems.
Shimano Disc MT200
This disc brake impresses with solid workmanship and high-quality materials. It benefits from the technical expertise of Shimano. The One-Way-Bleeding bleeding system allows easy maintenance, the grip width of 75 mm is also suitable for smaller hands. Its versatile design suits the numerous bike types and is always a good and inexpensive alternative.
Bosch Active Line Plus
The varied Active Plus line is the ideal companion when you want to discover new places and extend your Pedelec trips beyond the city. Weighing in at just 3.2kg, the compact and discreet drive unit accelerates seamlessly and responsively up to 25km/h. We made it as lightweight and small as we could to optimise handling; whatever your riding conditions.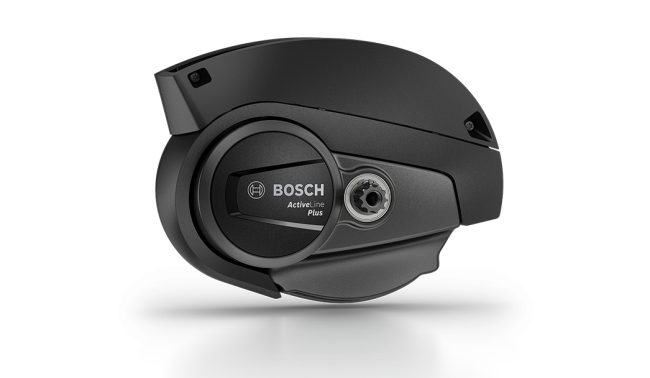 Ergotec Hook Evolution
An unsprung seat post transmits the power directly to the drive when pedalling. This makes the Hook Evolution a good choice for sporty riders. The seatpost has a 10mm offset of the saddle to the rear.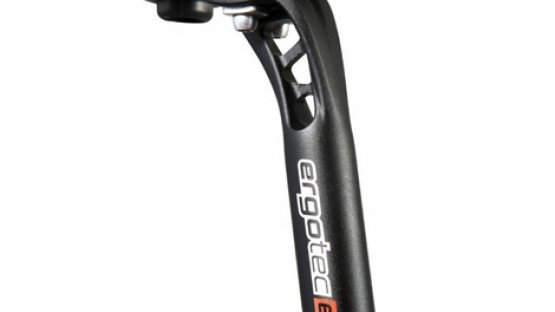 Frame geometry
The right frame height is important for high riding comfort and fun. Once you have decided on a model, the first step is to determine the frame height. This depends primarily on your leg / stride length. You can use the following rule of thumb to determine the right frame height: Step length x 0.66 = Frame height If you are exactly between two frame heights on offer, choose the smaller one. If you would like to equip your bike with a suspension seat post, also choose a frame one size smaller.